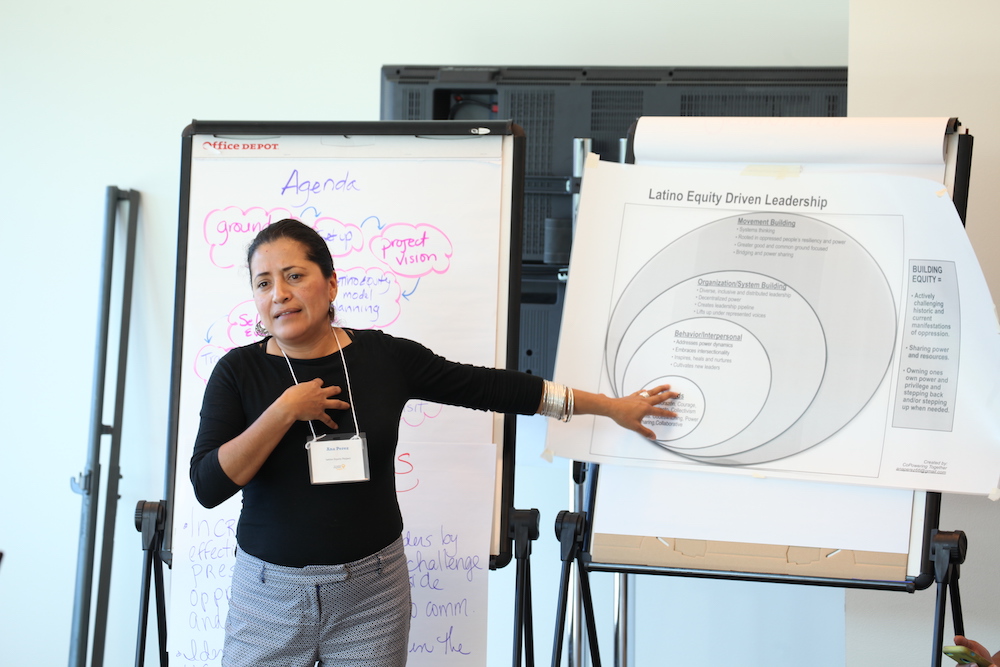 Our Story
After 20 years of working in the race and equity field, our founder Ámate (Ana) Perez created a space and a curriculum for Latinxs to come together to challenge the myth of Latinxs as being only "brown" people and to expose the rich racial diversity within the Latinx community. Inspired to shift the dynamics of power that have invisibilized large numbers of our population — indigenous and Afro Latinxs and other disenfranchised people — LREP began as a conversation with a group of 10 racially diverse Latinx leaders throughout California and now the project has trained hundreds of leaders across the state.
Our goal is to nurture a growing Latinx community that embraces deeply held multiracial, multicultural and equity values to counter, and hopefully change, the possibility of a majority Latinx population that continues to replicate inequity at all levels in the US.
Our aspirational goals: When more Latinx leaders understand the racial diversity of the Latinx community and oppression dynamics, they can challenge those dynamics and create healthier work and movement environments, building more equitable organizations and systems that reduce inequitable outcomes for everyone. With this understanding, Latinx leaders will play a leadership role to bring in new underrepresented individuals and groups and to create an intentional, more diverse leadership pipeline for justice movements in the U.S.
The term "equity driven leadership" is a new body of work integrates undoing oppression, power, and privilege by lifting-up traditional and indigenous Latinx values into every aspect of organizational and leadership development. In order to address the greatest challenges we face, organizational and leadership development must center shifting the current systems of oppression and domination.
About LREP
LREP is a racial equity training entity that is grounded in indigenous technology and wisdom and integrating mind, body, spirit with different ways of knowing, to address racism and oppression. LREP centers the cultural strengths and diversity of Latinidad, while actively challenging anti-Black and anti-Indigenous ideologies. LREP combines ancestral values and practices with academic research on colonization and trauma recovery with best practices in racial equity training. Their work results in a powerful and transformative experience for participants and organizations. The result is an unprecedented leadership development program that centers on being in healthy relationships with ourselves, our extended Latinx family, other oppressed communities and from that place driving racial equity change at a city, county, state and national levels.
LREP originally worked only with Latinx communities and in the last three years, our work expanded to include non-Latinx people of color and white communities in our decolonizing work.
We're thankful to CARECEN San Francisco for incubating the Latinx Racial Equity Project as our first fiscal sponsor. Our current fiscal sponsor is the Movement Strategy Center.